with CRAFTISS yarn storage bag knit a few projects simultaneously is not a problem
our crochet bag made of natural material without any bad or chemical smell
use our knitting project bag to store unfinished items in two big external pockets
with our crochet bags and totes organizers you get FREE knitting accessories case
for buyers, who will register yarn holder for knitting after purchase
Great Gift - Convenient knitting tote bag – For Knitting On the Go – No bad smell – Trendy color – High-quality furniture – Needle case for FREE – 3 external pockets to store knitting stuff.
Comfort is an important attribute of our life. The desire to comfort is one of the basic human values. Comfort is especially important during leisure or hobby time. Wonderful news from СRAFTISS!
We offer COMFORTABLE knitting bag organizer for knitting or crochet lovers! No more headache where to store yarn and unfinished crochet projects! Buy CRAFTISS Yarn Bag for Crochet and relax!
Why you need CRAFTISS Yarn Tote for ultimate organization?
- Enough capacity to store yarn for several projects and accessories in one place
- Convenient 'stands on its own' cylinder form of the knitting yarn holder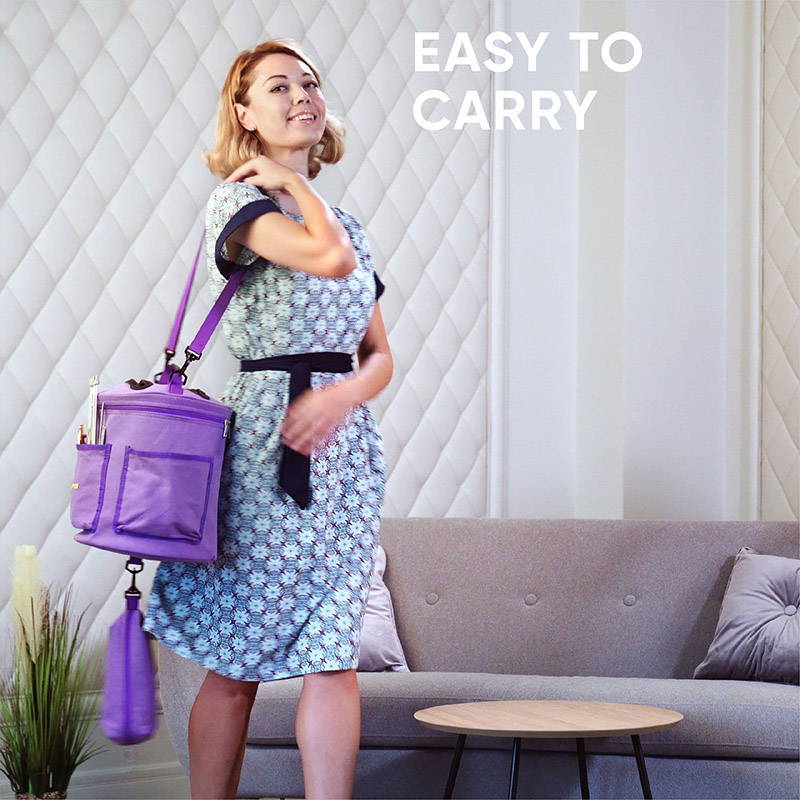 Guaranteed long term usage due to durability of the heavy canvas material - 3 external pockets instead of one that other yarn bags has. Your friends will be jealous to Purple color of your new CRAFTISS travel yarn ball holder.
Purchase of crochet yarn storage includes:
- 1 main yarn caddy with 2 open slots on the lid, handle at the top and adjustable shoulder strap
- 1 project divider for use inside the yarn drum to prevent project mixing
- 1 portable case for needles and other small knitting accessories
Crochet Shoulder Bag product specification:
Material of knitting accessories bag: 100% Cotton Canvas
Color of knitting travel bag: Purple
Diameter of yarn keeper - 11 inches
Height of yarn organizer - 13 inches.