16 Skeins - UNIQUE Colors – 700 yards total length - 0.7 oz, 44 yds each – For Small Projects – 100% Acrylic Soft Knitting Yarn – 8s/4 plies, 3 DK weight yarn
- WHY DO YOU NEED THIS KNITTING YARN SAMPLER SET?
You can use this big pack of soft CRAFTISS Knit Yarn Skeins to make colored flowers, granny squares, crochet bookmarks, amigurumi, baby yarn blanket, classic yarn socks, crochet bracelets for girls, multicolored knitted puppies, bonbon rug and many others vintage yarn, small crochet or kids no-knit projects. It's a great learning kit for kids and adults workouts about how to knit. Gift for Mom!
- COLORS BRIGHTER THAN RAINBOW
16 Light Worsted Weight Crochet Yarn Skeins Unique COLORS! - RECOMMENDATIONS For crocheting we recommend 4 mm size hook and for knitting 6 to 9 knitting needles size.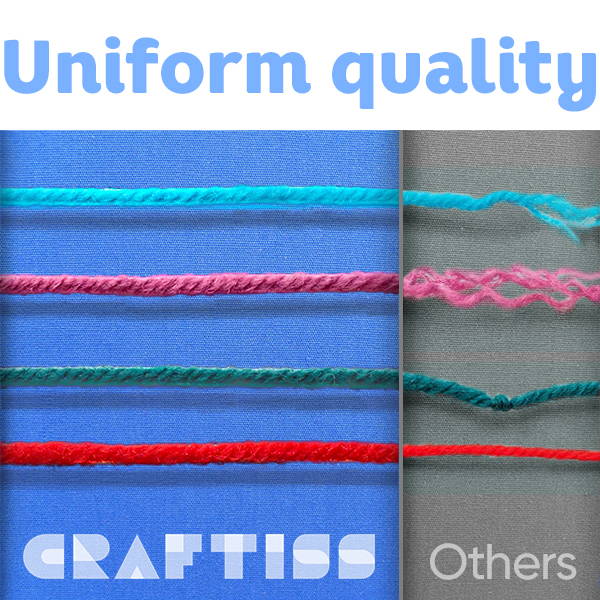 UNIQUE COLORS – mini skeins bundle of crochet yarn, 8s/4, 3 DK weight type, 20g 40m each skein
PERFECT FOR SMALL HOBBY PROJECTS like crochet flower, yarn bracelet or as a pom pom yarn
100% ACRYLIC – colors stays bright after washing due to synthetic nature of these threads
MUST HAVE knitting yarn as knitting set for beginners or crochet starter kit. Light to medium weight
SATISFACTION GUARANTEE - buy original crocheting yarn, check that you purchase from CRAFTISS seller