24 Vivid Colors - Packed in Jars with Protective Film - Cosmetic Grade & Nontoxic - 0.2 Oz Per Pearlescent Pigment Color
MULTIPLE WAYS TO USE
Need safe mica powder for body butter, mica powder for candle making or mica powder for lip gloss making? Our mica powder for resin art, cosmetics, bath and body products, acrylic nails and so on is 100% vegan, cruelty-free and pure as can be. The leading nontoxic mica powder for aroma beads, lip glosses, eyeshadows and more, our powder gives blended formulas beautiful color without the need for fillers.
UNIQUE COLORS SET
This particular set of mica pigments contains 24 individual jars of our bestselling powders. Enjoy having 24 unique colors available to you while making epoxy, soaps, candles or beauty products. The set includes basics such as black, brown and nude in addition to trendier colors such as bubblegum pink, ultra violet purple, coral and ocean blue. No color is ever repeated in the set.
TOP QUALITY IS OUR PRIORITY
We're the proud providers of the top choice cosmetic mica powder for lip gloss, eye makeup, epoxy crafts, resin artwork, nail design and more.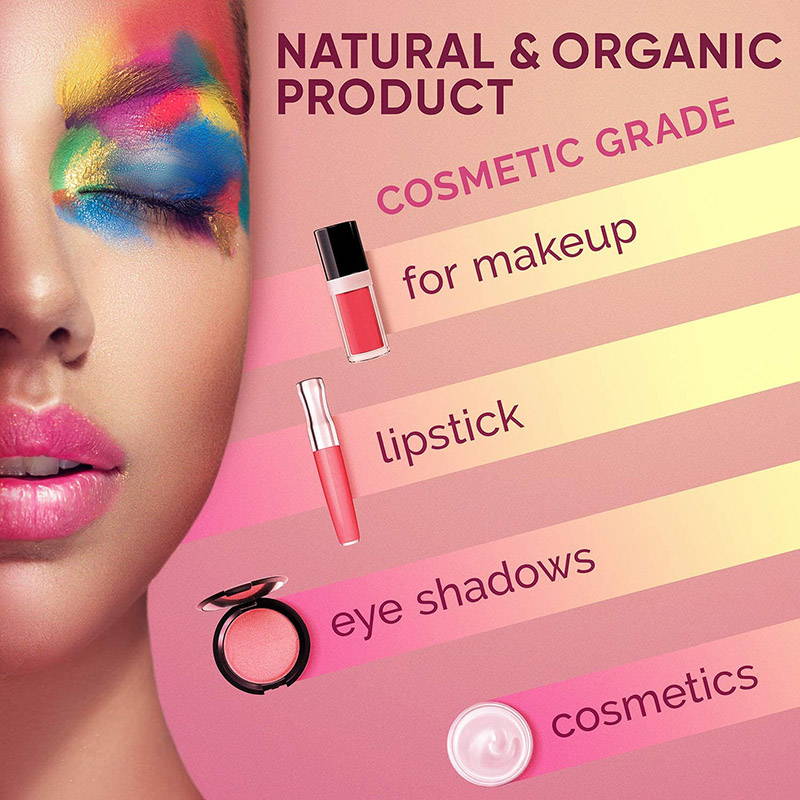 PACKAGED IN INDIVIDUAL JARS: Our mica pigment powders are packaged in small jars so to prevent messes & mixing. The little pods are also easier to pull from than bags. No waste. No mess. No cross contamination.
POWDERS IN (24) VIVID COLORS: Each set includes 24 mica powder pigments. All 24 colors are intense, bright & vivid. No repeats. Our mica powder set has the best assortment for all of your mica pigment needs.
COSMETIC GRADE & NONTOXIC: Clean, pure & free from toxins, our pigments can safely be used as mica powder for lip gloss, mica powder for soap making, mica powder for acrylic nails or mica powder for bath bomb.
FOR DIY CRAFTS & MUCH MORE: Use our mica powder for epoxy resin, candle making, coloring melt & pour soaps, homemade slime, tumbler printing, stamping, embossing, nail art, handmade makeup products...
ALL 24 JARS CLEARLY LABELED: Blending in the wrong color can lead to all sorts of problems. Preferred by manicurists, artists, candle makers & soap makers, our pigments are labeled so that they're easy to identify.